READY TO GET RID OF MONEY FEARS & DOUBTS?
If I can earn nearly $500,000 in business at only 29, with two rambunctious toddlers… anyone can!
It all starts with your beliefs.
You can start from zero and create a thriving business. I am proof of that. There is a secret to having it all and it begins with your MIND.
I'm Susie Romans, I help business owners reach more people online, impact millions and grow thriving businesses.
After making a name for myself as a Business Development Manager in a Chicago Digital Agency, founding a lifestyle blog with a readership of over 5.3 million and having two kids just over a year apart, I decided something had to give.
I was overwhelmed.
Deep down I knew I had the heart and hustle to run my own business, so I quit my job.
A lot of fear set in when I realized what I had done. But by working on my mindset, getting rid of fears around scarcity and fear of success I've been able to build a thriving business.
Within the first 90 days of launching my personal brand and coaching business, SusieRomans.com, I had my very first $10k month. For over two years, my business has been growing and thriving.
I was born to a middle class immigrant family. My parents lived paycheck to paycheck.
Our home was filled with love, but it pained me to see my parents struggle. I saw the toll that it took on my parents to work so hard and have multiple jobs.
I've seen both my mom and dad get laid off.
I've seen their aches and pains from the back-breaking labor… So in my early 20's, I became obsessed with the idea that one day I would retire them and pay for all their needs. Having more than enough money is a choice.
It's available for everyone. Financial security is possible for EVERYONE!
THESE ARE THE BIGGEST MISTAKES I SEE:
Never Learning From or Modeling Successful People
Focusing On Spending or Saving More Than On Earning Money
Never Working on Beliefs or Investing in Improvement
I'm here to show you exactly how to believe in yourself so that you can achieve a six figure income, or higher!
YOUR INCOME CAN GROW AS QUICKLY AS MINE
The secret to creating wealth and freedom starts with your beliefs. Most people who stay broke have beliefs that are broken. Luckily, anyone can re-program their thoughts and create a new reality.
YOU COULD KEEP HOPING THINGS WILL CHANGE…
You could run yourself to the ground, barely making ends meet. You could keep earning pennies online. You could do work you hate and feel a constant stress…
OR YOU CAN CHANGE YOUR LIFE TODAY!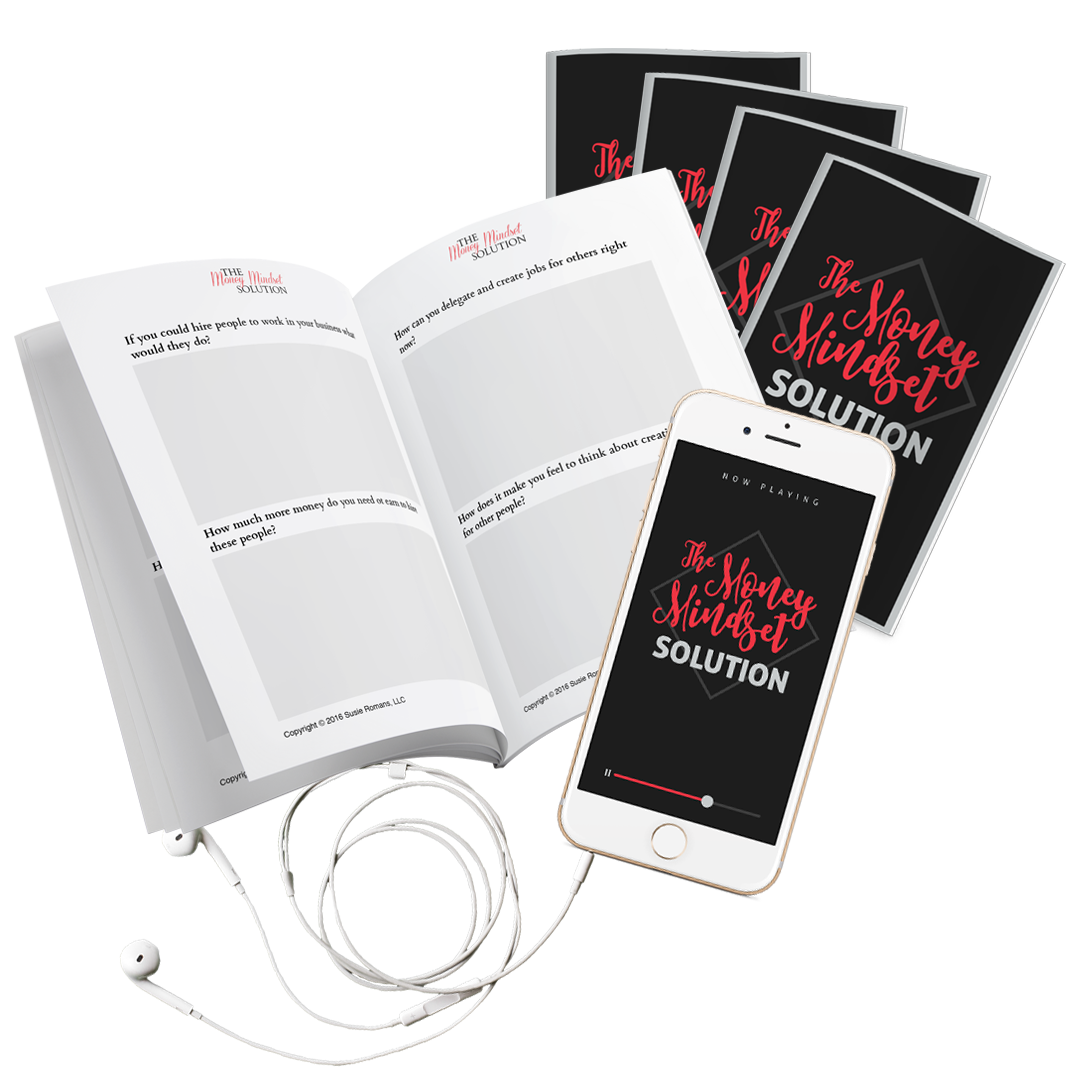 100% Online
Once you purchase the course, you'll set up a log-in & password to access all of the class materials immediately! You can listen to the audios from your computer, or mobile device to listen on the go. You'll also get access to workbooks and PDFs.
Lifetime Access
Once you purchase the course, it's yours to listen and learn from anytime you want! If you have any login questions or issues just email us at Support@SusieRomans.com!
Desired Life
In this first set of audio trainings, you'll get clear on your desired lifestyle. It's time to get specific about what you want, how much it costs, and how it would feel when you arrive there. This module is critical and will change your outlook like you've never imagined.
Define the Life You Desire
The Powerful: Last Days Exercise
Learn How Abundance Is Possible For You
And More!
Your Mindset
In the second set of audio trainings, you'll discover where your mindset is currently, and uncover what exactly is stopping you from earning the kind of money that you want. It's deep and it's needed!
Tune Into Your Mindset, Comfort Zones and Increase Energy
Learn How Emotional Awareness Can Invite More Money Now
Power of the Mind (Love and Fear)
Abundant Thoughts
Once you know where your mindset is, we can begin to work on increasing your acceptance of the money and abundance that are around you all the time, and how to tap into it.
Learn how reprogramming negative beliefs will help you break into a new money mindset
Finally get to the ROOT of your worries and fears around money so you can attract abundance
Learn exactly what to focus on to "flip the money switch" starting today!
Doing Good
If you grew up with, or have believed on your own that somehow being wealthy is evil, or that having lots of money is selfish, this is the module for you. In this set of audio trainings, we'll dive deep in to the benefits of having money so that you can help others.
Manage Money
In the final set of audio trainings, I'll walk you through how to manage your money and feel totally confident in your new role as a successful business owner and money magnet!
Here's a glimpse of what my life looks like, now that I have transformed my money mindset!
Earned nearly $500K online in just two years!
Hired a

cleaning lady and home assistant

to do laundry and day-to-day cleaning
Worked with over 200 amazing clients and customers
Bought my

dream car

 (a bright red convertible!)
Ran a LIVE event at the 5-STAR Waldorf Astoria Hotel in Chicago
Created a brand new Youtube show

professionally filmed and edited

!
Hold monthly photoshoots for branding and marketing
Weekly massages and spa dates with friends!
What type of business owners have you worked with?
I work with business owners and entrepreneurs from MANY industries including: life coaches, health coaches, marketing consultants, fashion designers, stylists, image consultants, photographers, creative consultants, videographers, social media managers, online business managers, virtual assistants, bloggers, musicians, speakers, authors, thought leaders and more!
Do you guarantee results?
As you know, there are no guarantees in life. When it comes to training programs, you get the best results if you put in the work and stay consistent! I know this program is a life changer.
Still have questions? Send them to me below!